Buffalo Bleu
11/05/2020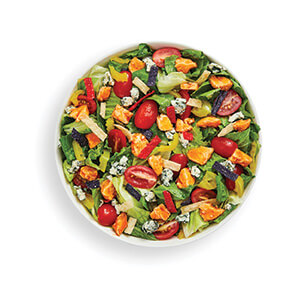 Our Chef recommends a base of our Romaine/Iceberg Blend. It's served with Grilled Buffalo Chicken, Chopped Tomatoes, Banana Peppers, Bleu Cheese and Tri-Color Tortilla Strips. We recommend our Creamy Bleu Cheese dressing.
You can enjoy your chef inspired signature as a bowl or a wrap and modify your base to include a variety of greens, grains or a combination of both. All dressings will be served on the side.
Find your local Saladworks to order a Buffalo Bleu salad, wrap, or bowl today or visit our menu for more options.