REWARDS FAQ'S
APP UPDATE FAQ's - November 18, 2020
Will my rewards go away with the new Saladworks Rewards app update?
No, your points will not go away.
I forgot my Username / Password.
If you cannot access your account hit the "Forgot Password" link below the login fields in the app. You will receive an email to the email address you used to sign up with Saladworks Rewards. Or you can visit https://saladworks.com/reset-password to reset your password.
Do I earn rewards when I purchase online?
Yes. If you are a Saladworks Rewards member you earn 1 point for every $1 you spend online or in the Saladworks Rewards app. Make sure you have logged in with your Saladworks Rewards username and password.
Can I use my banked rewards when I purchase online?
Yes. When you get to the "Checkout" page in the ordering process you will be given the option to pay via Credit Card, Rewards or Gift Card.
Where can I find the online ordering button?
In the Saladworks Rewards app select the Order icon in the bottom navigation. An "Order Now" button will show up in the middle of the screen.
About Saladworks Rewards
How does the Saladworks Rewards program work? How do I earn points?
Members of Saladworks Rewards will earn 1 point for every $1 they spend in participating Saladworks restaurants.
Members can also earn points by signing into their account through Facebook or referring others to the program.
Any member that joins Saladworks Rewards has automatic Entry level status. When a member earns 101 or 401 points within a 12-month period, they achieve Gold or Platinum status, respectively. They will maintain their status for the rest of the current program year and the next program year. To maintain Gold or Platinum status for another year, you will need to earn 101 or 401 points by your next program anniversary.
Earning power grows with each level you move through, but you will always receive rewards every 100 points earned. The reward can be used toward purchases at any participating Saladworks restaurant. You will also gain other benefits as you move up through each level such as free birthday treats and customized offers.
How will I benefit from Saladworks Rewards?
Saladworks Rewards will have many benefits for our loyal customers, including:
$1 = 1 point
Flexible rewards every 100 points
Eligible for surprise and delight, customized and local offers
Free birthday treat at Gold and Platinum levels
Flexibility in earning at register or with receipt for up to 30 days
Ability to increase earning potential the more you visit Saladworks
Earn points through dollars spent, signing up through Facebook and referring friends
What are the Saladworks Rewards levels? What types of rewards are available at each?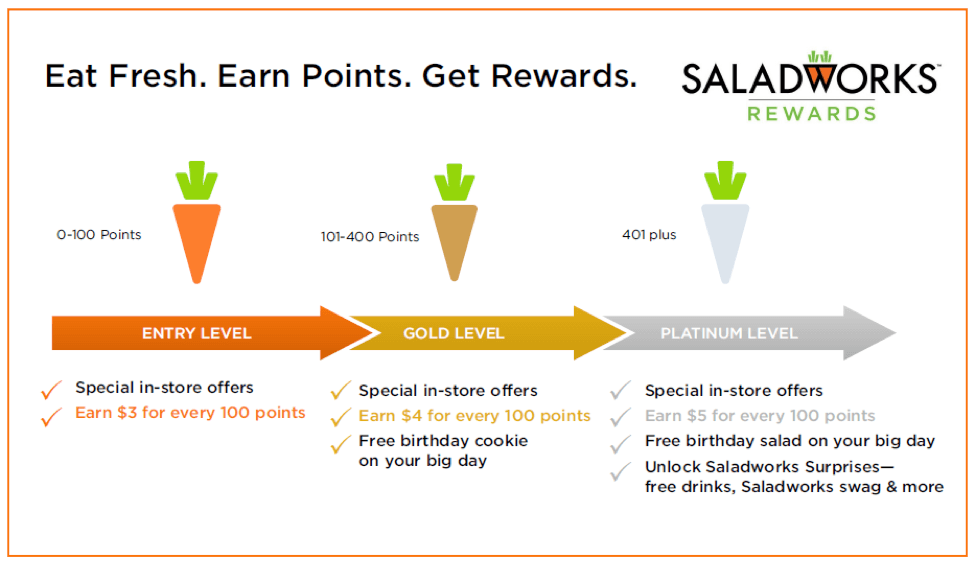 How do I join Saladworks Rewards?
Download the Saladworks Rewards application from the Apple App Store or the Google Play store or find a link to the program on the Saladworks website. Follow the on screen prompts to sign up for an account and start earning. Limit one Saladworks Rewards member per device. Reminder, if you are a member of the Fresh Fan Club, sign up with the same e-mail address to transfer your points to Saladworks Rewards.
Will I need a smartphone in order to be part of the Saladworks Rewards program?
No, if you do not have a smartphone you can still participate in the Saladworks Rewards program through the Saladworks.com website.
I forgot my phone during my visit. Can I still receive points?
Yes, make sure to ask for a receipt at the time of your purchase. Your receipt will contain a barcode that can either be scanned into the application or the code can be entered manually into the application or on the Saladworks Rewards website.
When can I download the app?
The app is currently available to download on the Apple App Store and the Google Play store.
Will Saladworks Rewards be available at all Saladworks locations?
The program is available at all Saladworks United States locations that are able to participate.
Will I receive e-mails from Saladworks after entering my e-mail address to sign up?
You will receive exclusive promotions, healthy tips and information on what's happening at Saladworks. But, you can opt out at any time.
Will my name be put on a mailing list for other organizations?
Saladworks does not give out or sell your information to any other person, company or entity.
Earning and Redeeming
How do I know when I have received a reward and how do I redeem it?
You will receive an e-mail and, for those using the application, a push notification when a reward is earned. You will need to click 'redeem' on the website or application to use your reward. Once you have done this on the application you will have 2 hours to use the reward or it will go back into your account. Codes from the website will be good for 24 hours before expiring.
How will I know what level I am in and when I move up?
The homescreen of the Saladworks Rewards application and website will indicate what level you are currently at and how far you are from the next level.
Will my rewards expire?
Yes. Once you have earned a reward it will expire six months from the date you earned it. Your birthday reward will be valid for 30 days from when you receive it.
Will my points expire?
Guests that make at least 1 purchase every 6 months will never lose their point balance and will remain in their respective tier as long as they earn the designated points needed for that tier each year.
Guests that do not make a purchase in a 6 month period will be notified at the 30-day and 7-day mark of their point expiration that they will lose their points if they don't make a visit by this date. They will lose all of their points if they do not make a purchase, but they will still keep their membership status and rewards for a year after losing the points.
Guests that continue to be inactive after both the 6 month inactive points reset and year of membership will lose their reward tier status and will be reset back to entry level. They will however keep any reward dollar amounts in perpetuity.
Is there a limit on the amount of points I can earn per transaction?
Yes. You can only earn up to 200 points per transaction.
Do I get credit for change?
Saladworks Rewards will award points rounded to the nearest dollar. If you spend $9.65, you will earn 10 points.
What if my bill is less than the rewards I am redeeming? Do I get the money back?
Yes. Unredeemed rewards will go back into your account.
Can I redeem the exact amount of my bill?
Rewards can only be redeemed in $1 increments. If you would like to cover your whole bill, round up to the nearest dollar. The change left over will be put back in your account after the transaction.
I place my orders online, how will I receive credit for my purchase?
When you receive your receipt at the time of pick up or delivery you will be able to scan or enter the barcode manually via the application or website.
Can I still use my phone number at a store if I don't have a smartphone or forgot my phone?
Yes, phone numbers can be used to earn Saladworks Rewards. However, to redeem rewards you will need to use the website or phone application.
Will I earn points for delivery orders I place through my app?
No, at this point you cannot earn loyalty points or redeem loyalty rewards when you place a delivery order.
What is the referral program and when do I receive points?
All Saladworks Rewards member have a referral code they can find in their app under the 'Referral Bonus' in the app. When you share your code with a friend you will receive 100 bonus points after the referee makes their first loyalty visit with the app. No limit on referrals.